Students services
DAILY  from 10:00am to 13:00pm
Regarding the secretariat
Students and every person interested can address the secretariat for:
Information about registration in the department, registration from other Physiotherapy departments, and any other information regarding their condition as students.
Information about renewing their registration, choice of lessons, edition of certificates of studies, scholarships and loans, etc.
Any specific issue concerning them.
Administrative Staff
Secretariat
Petri Thomais, Administrative staff, Tel: (+30) 2610962400, Email: petri@upatras.gr
Secretariat Administrative Staff: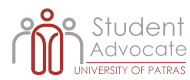 Contact (secretariat)
Address:
Secretary office of the Department of Physiotherapy
University of Patras, 26504 Rio, Greece
E-mail: physiosecr@upatras.gr